I have had a couple of messages asking about what my "studio" looks like, so here is a peek! Plus some past crafts I've done for my family and myself.
Well there it is. The "studio". HA! Really it's just part of the dining room, which is really the kitchen (eat-in kitchen... I say whatever to that. It's just a big kitchen, saying there is a dining room here is trickery). You see, we moved here when we were a family of three... and then came the twins. So, with it being only a two bedroom apartment, here is my office and all the poor kids are in one room. Thank heaven their room is just as big as the master, and all their beds fit no problem. Oh, and see my pink computer? My husband custom built it for me! :) Way cheaper than buying a pre built system and ... it's pink!
With a space this small, organization is key. Everything in my area (besides craft supplies and some decoration) was originally used for something else or is being repurposed. My second desk used to be my husband's computer desk a few years ago before he needed an upgrade.
If it's a good sized small box, I take it for storage. If it's a glass jar, I use it for my safety eyes. I have been collecting butter and cream cheese containers when they are empty so I can decorate them later and label them for separating safety eye sizes. The plan is to take an old cookie sheet, paint it, attach magnets to the bottom of the plastic containers and voila! Hang the cookie sheet and I have awesome eye storage. But that is still a work in progress.
I had to take some shelving we bought originally for my closet and my old locker shelf from high school to add some accessable storage. Works pretty well, for now. I got those cork board for less than $10 at Target for a set of four! They come in useful, and were worth the investment.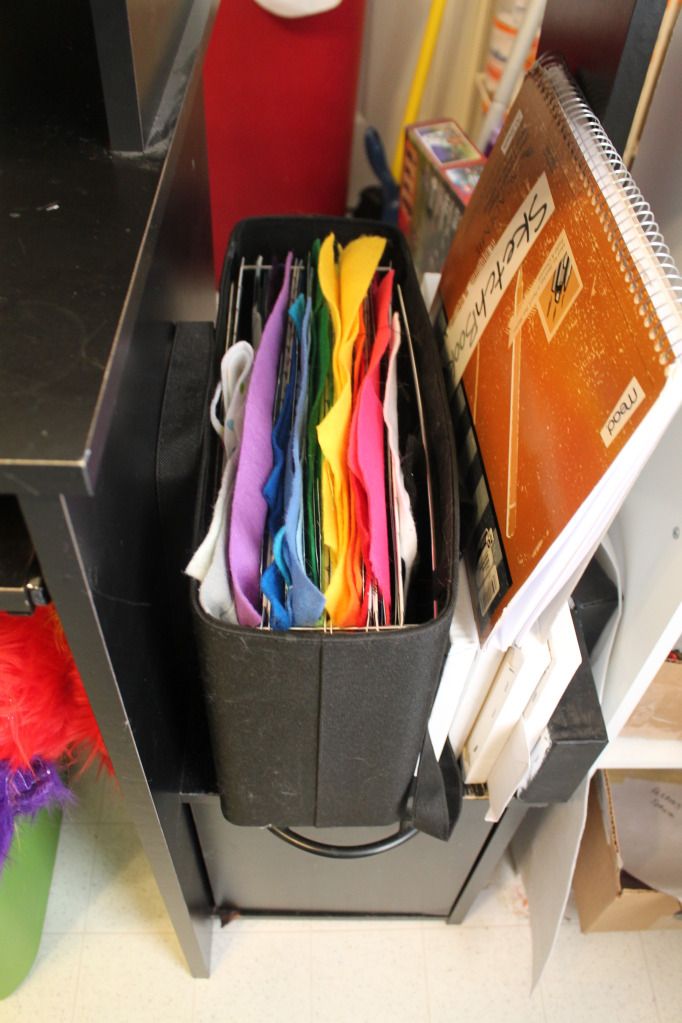 I always look for things on clearance, as well. Crafting and working a business on a one-salary family of five... not so easy. So cutting prices where I can is essential. I found this file folder, which is actually a hard cloth covered bag that came with 20 folders, on clearance at Wal-Mart for a few dollars. It's excellent for felt storage. Any small scraps of felt I always store in a big gallon sized baggy instead of throwing away, so I won't have to cut into an entire sheet later if I just need a small piece. Why was this on clearance? A tiny tear by one of the handles in the fabric. Really? Drop of hot glue, good as new, and I save a ton of money.
The one thing that is a pain is my fabric storage. Hello, big tub of fur. Finding storage for this is a work in progress, and this works for now. The tub fits snugly under my desk, and the fabric is accessable, and kept away from dust.
Something else odd you may have noticed is this little conundrum. Anyone know what it is? It's a home made lightbox! Just take a fairly large cardboard box, cut windows in three of the sides and remove the flaps completely from the top. Tape wax paper or white tissue paper over the windows, add fabric in the background and floor, and shine lamps through the windows! You get professional looking pictures, without paying $50-75 for a real lightbox. I got the fabric on clearance, the box came from a shipment of fabric or computer parts from my husband (I can't remember which, but it doesn't matter), and the wax paper was just from the roll from the kitchen. My lightbox cost about $2.50 to make! Plus, the fabric can be changed out. May look bad from far away, but the pictures are all that matters.
A close up of my computer area. My husband got me the murloc mousepad for Christmas last year! Also, you can see all my hoops in progress, and my toy collection. I made the Yoshi egg out of a wooden egg and acrylic paint. There is also a tiny Batman lunchbox and my windrider cub, and my collectable Sylvannas. If you play World of Warcraft, you know what I'm talking about here. You can also see my two lamps I use for my lightbox. Five dollars a piece at Wal-Mart, and lamps are always useful for other things.
Under my mousepad is my drawing tablet. My husband found it on Newegg, open box refurbished for $20. Does everything I need it to. I can sketch on the tablet and it goes into a drawing program on the computer. Handy.
We had to sacrifice the back door functioning in order to give me enough space to have a drawing and sewing area as well. At least I get a window by my desk! You can see my poor stuffed Yoshi has been uncerimoniously thrown on the baker's rack in the corner with all the baby food. That rack is full of formula at the beginning of every month, and just about empty at the end of the month. Twins eat a LOT of formula! But the cans are reusable for other things. If you have babies that eat rice, don't buy the cans of rice! Just pour the cheaper boxes of rice into an empty formula can. Ta-da! Your own can of rice! And just save a formula scoop to go with it, for easy measuring.
My beautiful window decor! I have a thing about Yoshi eggs. They are just cute. I also have a floating teeny yoshi egg in a one inch glass bottle I made, along with a tiny ocarina in another bottle beside it.
And just a few awesome things I have done in the past year or so...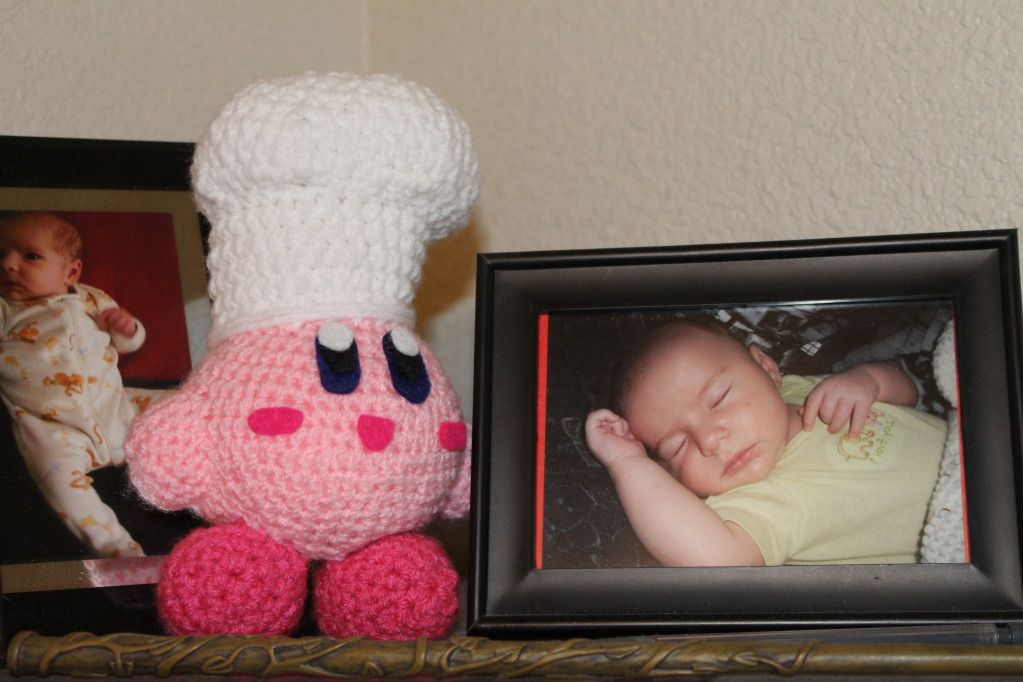 I used to crochet a lot more, but since I moved on to sewing and hoopla I haven't had much time for it. But this guy is still hanging around, my Chef Kirby. He is gaurding Hermione's wand!
I also made him a huge counterpart, if you can see him buried under all my kid's toys. That kirby is about two feet tall. The name on the wall was simple to make. Just buttons on white wooden letters attached with hot glue!
One last question I have gotten more than once is "what is that tattoo on your arm?" I guess its slightly visible in my youtube video where I'm making the three baby monsters. Well... I warned you I was a geek.
The answer: The crest of Hyrule. I love Zelda games, way way too much.
Until next time! I have two new monsters in the works, got to get sewing!