My latest project that I did tonight wasn't a monster, but it was pretty cute so I'm going to blog about it any way.
My sister, over at
Teaching Chick
, is getting ready for the start of school. She's a fourth grade teacher, and a few weeks ago she saw my pincushion (you may have seen it flitting around in pictures and in my video) and said she wanted it. I didn't really want to make her a pincushion since last I checked she didn't sew often. So instead, I took the pattern (which is free and available
here
) and enlarged it, and made her a felt plush to match her classroom, which is done in polka dots.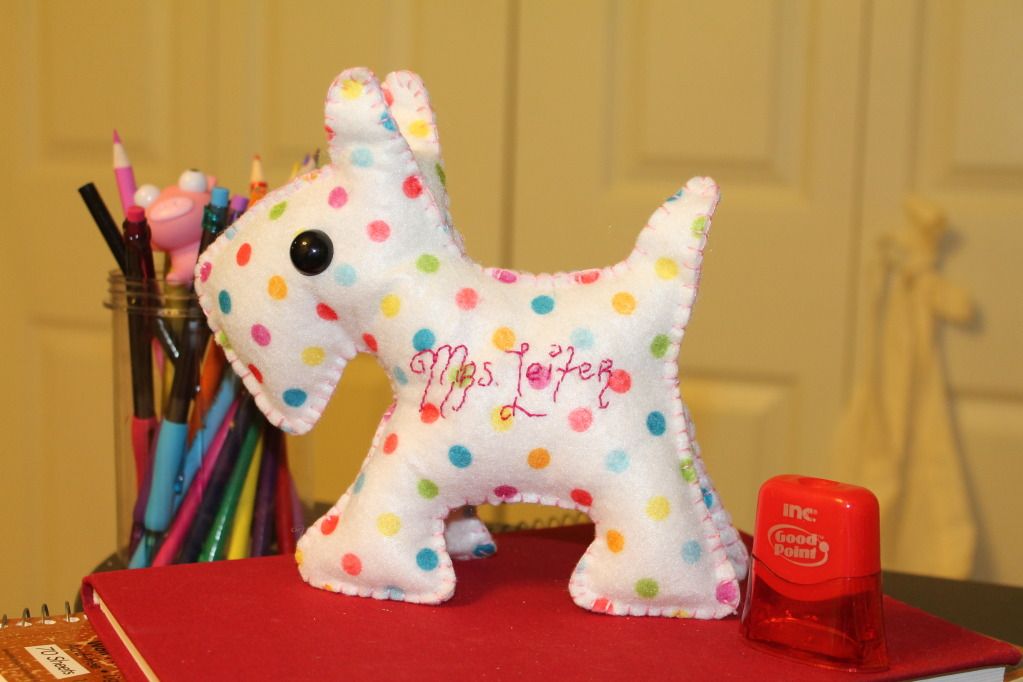 I embroidered her name on the dog as well. I figured she could use something soft to throw at students. (Kidding!)
You can see it's a simple pattern. I used three pieces of 50 cent felt, pink DMC floss in three strands, poly-fil to fluff him up, and 15mm safety eyes. In all, he cost about three dollars. Pretty awesome for a nice, handmade and personalized gift.
Small felt projects like these are a great way to practice sewing by hand and learning new stitches. I used a blanket stitch on the edges of the dog for a neat decorative look, and a back stitch for embroidering.
On the bottom middle seam I used a whip stitch with the seam facing in towards the inside of the dog. If you don't know how to do these stitches, they are VERY easy. The best how-to I've found for the blanket and whip stitches are at
Futuregirl's Craft Blog.
This took about two and a half hours of work, but mainly because I was (ashamedly) playing Facebook games while sewing after the kids went to bed.
I ordered new fur! Just a bit of it, and in some fun colors. I'm planning on making little newborn monsters to give as rewards for my Kickstarter project (which should launch in the next two weeks sometime!). I may also stock some in my Etsy store, simply because my sketch for them is too freaking cute to not share the finished product.
Oh! Also, my husband is amazing. He found an open box drawing tablet on Newegg and bought it for me! Awesome surprise. So now I will be able to sketch straight to the computer (or trace my current sketches) and share them on here!